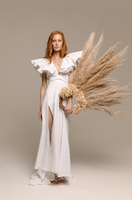 NADYA VON STEIN Resort and Bridal is a South African online platform for Sustainable Luxury Hemp Linen Womenswear.
The brand is inspired by adventurous women who want to look fabulous when taking on the world.
We create collections that inspire travel and exploration and produce garments that celebrate different shapes and forms and accentuate the perfection of the female body. We are committed to conscious design - creating collections that produce less waste and use materials that are less harmful to the environment.  In this way, we encourage consumer choices that are in harmony with the world and its natural balance. 
True love the greatest adventure.
BLUSH Resort Bridal SS22
Peacock Dress
The Peacock is an exquisitely tailored and close fitting two-piece dress. It features a deep plunging neckline, a fitted wrap-around bodice with a sash threaded through the front loop of the skirt, wrapped and tied at the back. The top is finished with exuberant double frilled sleeves. The high waisted pencil skirt, attached to the fitted bodice with the sash, features a double frill with a touch of flamenco. The Peacock can be styled as a set, worn as a bandeau and pencil skirt.
SHOP NOW